SMALL BUSINESS PAYROLL SERVICES
Unlike larger payroll competitors, Brighton Benefit Solutions is willing to do whatever piece of the payroll, HR, or benefit puzzle that you just can't find the time to keep up with — you can use as much or as little of our services and the prices will be reflected accordingly. Contact us today for a free consultation and quote.
Compensation has become an increasingly complicated process. Administration hours can be long and often needed to stay current & compliant. We help you make pay day as effortless and as simple as possible. We handle:
Complete payroll function including transfer of payroll tax liability
Calculation, filing, and payment of all federal, state, & local taxes
Paycheck preparation and delivery, including direct deposit
Payroll deductions for insurance plans, 401k, & medical premiums
Payroll deductions & payments for child support & wage garnishment
New hire reporting requirements
Accrual and tracking of vacation & sick leave
Employment and wage verifications
Year-end W2 processing
Management reports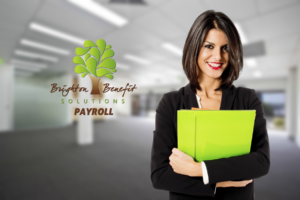 BRIGHTON BENEFITS SOLUTIONS HAS MADE LIFE SO MUCH EASIER!"
"Since Brighton Benefit started doing our payroll, I can finally concentrate on the other aspects of my business with full confidence that the payroll will be done correctly and on time. I was hesitant at first to have someone else do my payroll and quarterly taxes, but Brighton Benefit Solutions has put all those worries to rest. I look forward to working with Brighton Benefit Solutions for years to come."
-Daniel Daugaard, Big Daug Construction LLC
CONTACT BRIGHTON BENEFIT SOLUTIONS FOR A BUSINESS QUOTE TODAY! 
We are excited to hear from you!